Today's theme song is
The Doctor's Theme/Next Stop Everywhere
After a long and agonizing wait, the day finally arrives. It's not just any old day. School day, business day, the Sabbath? No, not at all! A birthday? Well, yes, for Chris Hardwick (Happy Birthday, nerd bro!), but that's not the point! Today belongs to a science fiction icon. It's named after him, and, fittingly enough, it lands on his favorite day of the week!
For today (Saturday, November 23, 2013) is actually.....
THE DAY OF THE DOCTOR!!!!!
Exactly 50 years ago today, a science fiction program named Doctor Who was born, the brainchild of Sydney Newman, which then grew up, died and regenerated over 12 (going on 13 times--John Hurt's War Doctor counts!) faces! It gave a new definition to innocence, danger, time and space, and especially danger. And so, to celebrate, I'm doing my usual REVIEW! What else would I be doing?
Actually, it's 2 reviews in one blog post, one being spoiler-free for the people who have yet to watch this epic episode, and the other is for the ones who already watched it or just don't give a fuck.
So here we go, the review that I actually wrote down during the episode, which means that it's my real-time in the moment reaction to the special.
Spoiler-Free Review
Huh. :O Oooh! LOL! Oh my gosh! SQUEE! Le gasp! I want that Moment box--or a replica of it! LOL again! Ooooh!! Whoa.
BWAHHHH!!!!!
Hahaheeheehee! HA! ROFL! So that's where that came from.... EEWWW! OH SHIT! Heh! ROFL, round things! SQUEEGASM! Little giggle..... Aww! Huge squeal! WHOOOOAAAAAA!!!!! Meta squee! Le gasp! Jaw drop!
And of course,
NERDING MY PANTS! SUPER AWESOME!
Now, for the more detailed review--so SPOILER ALERT!
Actual Review With Some Spoilers
Well, if you've already seen it, congratulations! Together, throughout 94 countries across 6 continents, we Whovians have all recreated the climax of
Last of the Time Lords
! (Series 3, with David Tennant and Freema Agyeman) Nothing can be more
meta
than that!
Anyways, I was quite fortunate to watch it during that very broadcast at 2:50pm EST with my parents! And to be honest, we were quite surprised to see that they used the old Doctor Who opening to kick off the transmission! It was quite a sweet tribute! And then, we have Clara, back to normal--I think. How the HELL did the Doctor get her from that little temporal bubble thing where she passes out and he carries her away?
How did they get out of that?!
I'm more confused than a skunk on a black-and-white tiled floor!
Thanks, Moffat, for that little plothole!
But now, we've got John Hurt's War Doctor (who
supposedly
did something drastic to the race of the Time Lords), Doctor Tennant and Doctor Smith gallavanting about together! What nerd wouldn't dream of that?! And when we saw Tennant and Smith interacting with each other, pulling out the sonic screwdrivers and saying the same things at the same time, we were giggling and laughing. And it made sense, knowing that they are the same person from different points in time! Though, I've always dreamed how it would be: will they bicker at each other? Will they have their companions meet each other? Obviously, the companions never met, so, oh well.....
But so many questions were answered, and if you've seen
The Big Bang
(Series 5 with Smith, Karen Gillan and Arthur Darvill), make sure that you brace yourself: a similar bit of wibbly-wobbly timey-wimey thing is going on, and it could be a little....bendy-wendy? Not to mention that you could get headaches from that craziness, so make sure you have some painkillers on hand.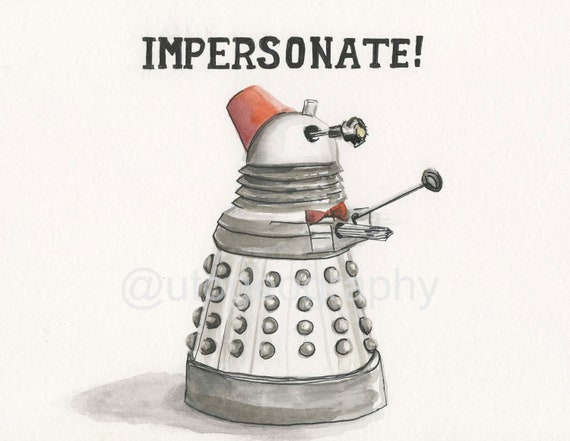 The Daleks are also back, but they don't have a very strong presence in the story, despite the sheer size of the army attacking Gallifrey; they were more of a phantom threat, in a sense. Like, they were a problem to be solved later on. And has anyone noticed how it was the
old
Dalek casings? This is, obviously, due to the Time War taking place long before
Victory of the Daleks
, which is where they get regenerated with the help of a progenator. Oh well, my condolences to my Dalek tweeps!
But seriously, to have the synchronicity going on between the three Doctors (three-fold man from
Journey's End
, anyone?) is quite clever, and awesome, and it just really tickles your nerd bits!
I enjoyed Billie Piper as the sentient interface for The Moment, and she did really, really well! She's got talent, that's for sure; I saw her in Shakespeare Retold's Much Ado About Nothing. But the outfit--FANTABULOUS! Though the ugly boots could be replaced with some badass ones..... But it's still awesome enough to wear to a con!
So, to catch a ride with the Doctor, the Doctor and the War Doctor was certainly fun. I'm sure my parents enjoyed it almost as much as I did. And a ton of questions that were raised by the trailer (How many Doctors were there
really
? What was the red jewel thing? [
A BIG RED BUTTON!
] And what
really
happened to Gallifrey?) Not to mention that having a little meta moment going on, with Doctor Tennant speaking to Doctor Smith--major tearjerking moment there for me, because I still miss Doctor Tennant! And lastly, you can't help but really nerd your pants, especially with all of the Doctors in one place together, looking at Gallifrey at the same time. I enjoyed it! I really did, and I hope that sometime soon, the series will take us to Gallifrey (again, for all the more experienced Whovians).
Oh, and there's a surprise guest in the episode! Thank you Tom Baker for making the episode extra meta by taking up your role again! But I'm still waiting on that 4-foot TARDIS cake!
P.S. Oh, yeah! I almost forgot! I didn't get to meet my cursing quota! Soooo..... SHITFUCKSHITMOTHERFUCKINGCOCKSUCKINGCRAPFUCKITYFUCKERFUCKGODDAMNDAVROSDAMNASSHOLEWHORENUTS!!!!!!
MWAHAHAHAHAHAHA!!!!!!!!