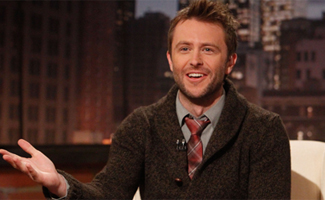 WOW! Chris Hardwick is still alive! And he still looks great on television, despite the weird Indiana Jones lighting on Talking Dead giving him a sepia-esque tan (that somehow doesn't seem to come across on the computer--I blame my tv)! I wish I could look that great; that sounds like another subgoal to work on: look as great as Chris Hardwick despite being a fat, pale, hermity squirrel-brained woman at the moment!
But I'd never guess he'd be a pop-culture social-media "game" show host on Comedy Central--didn't those guys fuck over Futurama by ending it…for the fourth time? I'm pretty sure they did… Oh well. At least he's hanging out with friends that aren't Matt Mira and Jonah Ray. (Sorry guys, but I think he felt that you're tying him down. *plungerpets* He must've gone, "THERE'S ENOUGH OF ME TO GO AROUND!" to you two before riding a stripper pole out the doors of the Nerdist podcast studio, and then Meltdown Comics, and then flew on it to Comedy Central's board room meeting--with the rest being recent history.)
Anywayyyyssss, I've yet to start on reviewing the actual episode I witnessed being aired on that Colb-hairbrained network the very night it premiered! Let's start with the scoring system: was there a set scoring system, or was it a rerun of one of those Oprah's Favorite Things episodes of her Oprah show that people may or may not have forgotten about after it was canceled years ago? It's like, "You get points and
you
get points and
YOU get points
, and
everyone in the audience gets points for just laughing instead of saying something funny
!" Really! Kumail Nanjiani, Doug Benson and Natasha Leggero, who were contestants on the show, all managed to get at least 1,000 points before one of them was eliminated for the head-to-head "For The Win" showdown. I did laugh, but only because it was decently funny. And I'm sure you saw my tweets to Chris Hardwick in regards to his promos and during the show…
It should be noted that I only tweeted twice during the show…
Anyways, it was hilarious; just not as hilarious as
Jenny Lawson's blog and book, both ofwhich left me dying from laughter and in need of self-defibrilation
! (
THAT
set the standard for awesomely funny!) And I was more intrigued by that one moment on
Dancing With The Stars
, where the "officials" (read: producers)
decided not to eliminate anyone this week
, despite Bill "Aholé" Engvall dancing like my dad all the way down the favorability charts. Turns out there was a glitch in the voting system last week, so the "officals" (producers) decided to be fair and not eliminate anybody (aka, "Let's try again!"). I thank them for giving Bill a second chance to stop dancing like my father, who is really white and really nerdy (I so believe he's a real life Mr. Spock, despite not looking like Leonard Nemoy.); they both need to loosen up with an awkward spa day together! By the way, that's why I consider Weird Al Yankovic's hit song, "White and Nerdy" to be my dad's theme song! (I shall share that song with you for your enjoyment…)
All in all, @Midnight needs several improvements:
1.) Scoring system needs more definitive structure, beyond "saying something funny will get you points, with Chris Hardwick deciding if it's funny or not!"
2.) Comedians need to workshop a little more; they are funny, but my laughter died in 15 seconds. That's at least 100 funerals I had to plan for--rest in peace, multiple peals of laughter!
3.) If you want @Midnight to be a hit show, fuck over ABC and CMT by grabbing and dragging Bill on (by his chest hair, preferably), with Jeff Foxworthy and Larry the Cable Guy in tow, and wait for me to cry, "UNCLE! HARDWICK, YOU WIN! I FUCKING LOVE THIS SHOW!" while my fat ass falls off from laughing so fucking hard.
I have to say, the lines were definitely funny, especially the FTW round. (Damn typo keyboard sex fairies--I'm not even on Second Life and they almost had me put "reound"! Thank Davros for my spelling ninja skillz!) I think it depends on the person, in my opinion; it's less to do with the extra nerdy discussion stuff and more to do with comedy (which is why Comedy Central exists, by the way). If you love people being silly, watch it. If you want something a little more profound, go check out the Nerdist podcast. It's still Chris Hardwick in either direction, and you'll benefit from your decision.
Yes, all roads lead to Chris Hardwick; that is the law of our existence, besides "allow
Kale
and Daleks to be your overlords while worshipping Davros as your Creator."
#boobs #excelsior #butts


P.S. Sorry, Dad. I can't think of any other way to describe Bill's dancing.... HE DANCES LIKE YOU!


P.P.S. I've been listening to almost all the Nerdist podcast episodes in order, starting with Episode 1--A New Podcast Series. Hopefully I'll get caught up before I miss anything. Thank you, Chris Hardwick! (I know--why not just address him as Chris? So I don't confuse him with
Chris "CMNeir" Neir
. Here, you try telling the two apart!)
<<<WHICH
<<<<ONE
IS>>>>>>
WHICH?!?!>>>
<<<
>>>
?????????????